Building and Designing Assistive Technology Lab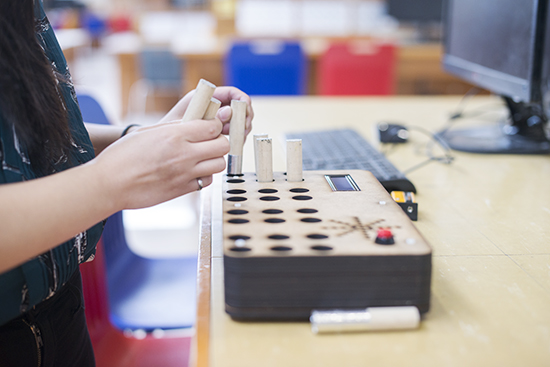 Our vision is to build and design assistive devices to increase independence of individuals with disabilities. We strive to provide universal design solutions to promote inclusivity by designing with the end-user in multi-disciplinary teams of occupational therapists, physical therapists and engineers.
Dr. Claire Davies, Director of the Building and Designing Assistive Technology (BDAT) Lab and Assistant Professor in the Department of Mechanical and Materials Engineering at Queen's, first developed an interest in biomedical engineering while volunteering at a children's hospital in Toronto. Seeing how the children she worked with lacked the freedom afforded to other kids their age, Davies was inspired to dedicate her research career to improving the lives of people with disabilities.
Perhaps unsurprisingly, Dr. Davies' work is very much multi-disciplinary in nature. Making assistive technology, for example, requires an in-depth knowledge of the senses and how they operate both physically and cognitively. Those specializing in the Health Sciences then have an important role to play in the lab, helping to ensure that BDAT projects are clinically relevant and useful. Through producing these assistive technologies, Dr. Davies has developed an interest in universal design. Technologies produced with universal design in mind can be used by all people with minimal need for adaptions for differently-abled individuals.
To learn more about Dr. Davies and her work, visit her website. The Building and Designing Assistive Technology Lab also has its own website, which you can browse here