City of Kingston Mayor's Innovation Challenge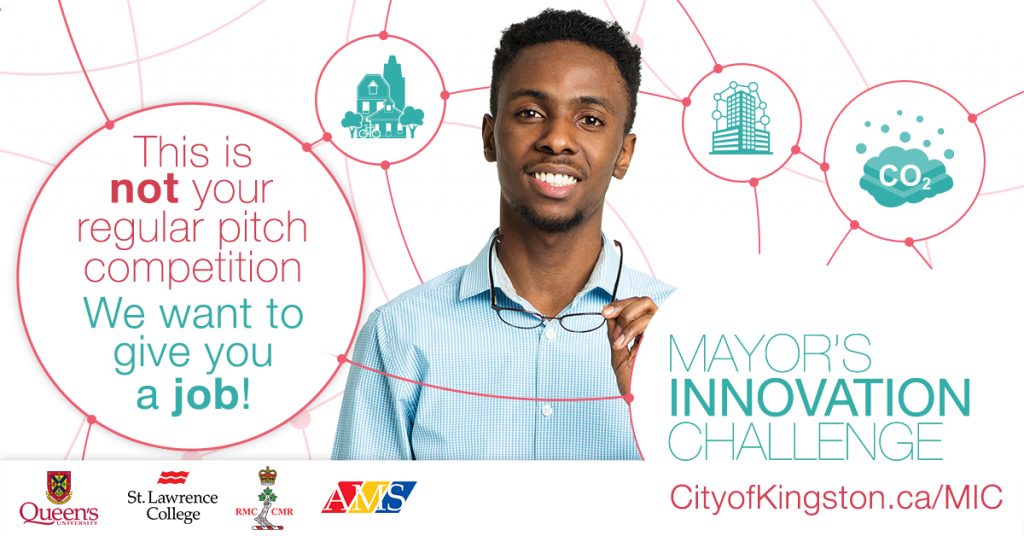 The Mayor's Innovation Challenge is an extraordinary opportunity for the City to develop new innovative ideas for municipal service delivery while identifying its future workforce.
Kingston faces a series of complex challenges as it works toward its vision of becoming a smart, livable, 21st century city and is seeking solutions from student innovators. The Mayor's Innovation Challenge calls on student teams from Kingston's major post-secondary institutions to develop fresh ideas to address identified challenges faced by the City. In partnership with Queen's University, St. Lawrence College and the Royal Military College, the City is hosting this experiential problem-solving and learning opportunity for its second year.
Current and recently graduated post-secondary students are eligible to submit proposals addressing one of these four challenges in two stream categories:
Dunin-Deshpande Smart Cities Stream
Public Sector Innovation Stream

Engaging Residents in Long-Term Care
Revitalizing Public Spaces
Reducing Carbon Emissions
The winning team of the Dunin-Deshpande Smart Cities Stream receives a four-month paid internship with the Dunin-Deshpande Queen's Innovation Centre and $4,000 in seed capital. Winners from of the Public Sector Innovation Stream receive a four-month paid internship with a municipal department with the City and an operating budget of $10,000 to implement their idea.