Queen's University brought together thought leaders and community members for the Principal's Symposium: Imagining Our Digital Future, November 26, 2018, a day-long discussion of discovery and research at the intersections of the human and the digital. Topics engaged participants in imagining an exciting digital future of big ideas and niche solutions, emerging technologies and creative economies, engaged communities and global collaborations.
Throughout its long history, Queen's has excelled at building communities that push the boundaries of knowledge. New connections and collaborations will be at the foundation of our open, data-rich, human-centered environments.
The virtual exhibit on this page complements the symposium and other digital planning initiatives under way at Queen's and in the Kingston community. For decades, we have been leveraging technologies to advance learning and research. Here we highlight just some of our interesting initiatives in the digital realm. Examples range from research advances in digital technologies that are impacting daily human lives to previously unimaginable learning and research opportunities across the disciplines.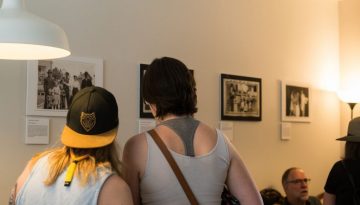 Dr. Laura Murray uses digital technologies (a blog, an app walking tour, podcasts, photo enlargements, mapping) to engage participants and outsiders with local history research.